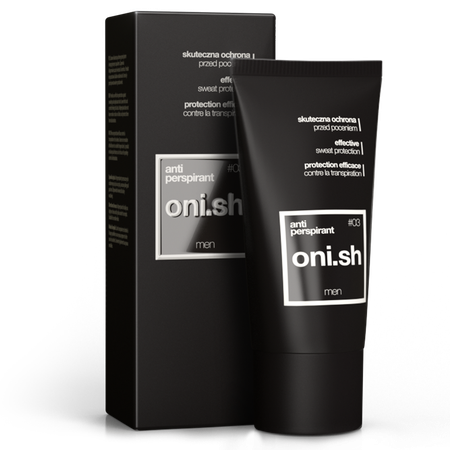 Oni.sh antiperspirant
Oni.sh antiperspirant is a men's care product providing effective protection from sweating and unpleasant odours. Oni.sh ensures long-lasting freshness and comfort. Does not leave stains on clothes, protecting them against discolorations. Suitable for sensitive skin.
Composition
aluminum salts (Aluminum Chlorohydrate, Aluminum Sesquichlorohydrate), allantoin, bisabolol
Marketing Authorization Holder
Aflofarm Farmacja Polska Spółka z o.o.
Information for the consumer
Cosmetics are substances intended for external contact with the human body: skin, hair, lips, nails, external genitals, teeth and mucous membranes of the mouth, used solely or principally for their purity, care, protection, perfumery or beautification.
See how we care about quality
All our products are subject to strict safety requirements
We use rigorous quality control standards and procedures to ensure the highest level of safety for all our products.
See how we care about safety