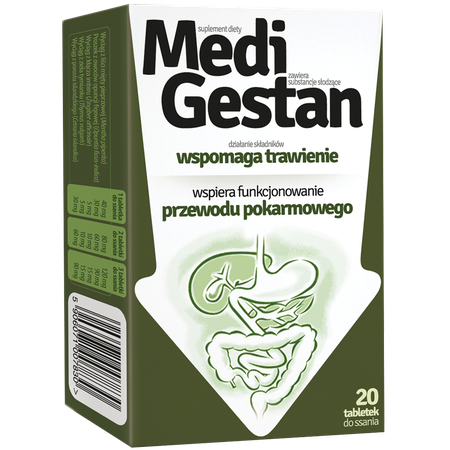 Medigestan
The ingredients of Medigestan: - help maintain digestive comfort, - have a beneficial effect on the health of the stomach and intestines, - support the function of the gastrointestinal tract, - support lipid metabolism, - help control weight, - help control glucose level, - support digestion, - refresh breath. Iceland moss extract helps maintain digestive comfort. Peppermint extract supports digestion and the normal function of the gastrointestinal tract, and helps maintain a healthy stomach. Thyme extract supports digestion and refreshes breath. Ginger rhizome extract helps maintain the normal function of the gastrointestinal tract and supports digestion. Indian fig opuntia powder helps control glucose level and supports lipid metabolism.
Kategoria Dietary suplement
Composition
Peppermint (mentha piperita) leaf extract, Indian fig opuntia (opuntia ficus-indica) fruit powder, Ginger rhizome (zingiber officinale) extract, Thyme herb (thymus vulgaris) extract, Iceland moss (cetraria islandica) extract
Marketing Authorisation Holder
Aflofarm Farmacja Polska Spółka z o.o.
Information for the consumer
Food supplements should not be used as substitutes for a varied and well-balanced diet. A varied and balanced diet and healthy lifestyle are essential for good health.
See how we care about quality
All our products are subject to strict safety requirements
We use rigorous quality control standards and procedures to ensure the highest level of safety for all our products.
See how we care about safety