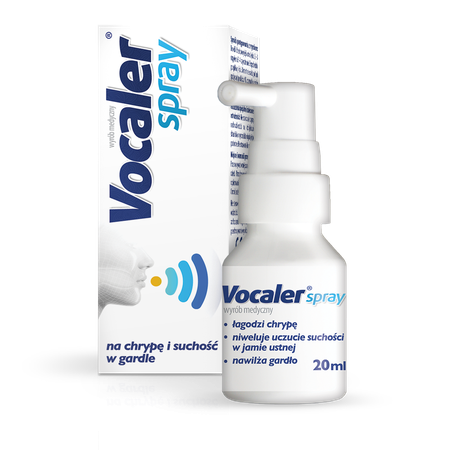 Vocaler spray
Vocaler spray brings relief to dry and hoarse throat.
The ingredients of Vocaler spray: form a lubricating protective film on the oral lining to moisturize and protect it from dryness and adverse external influences.
Vocaler relieves irritation and symptoms of hoarse and dry throat associated with extensive use of voice, exposure to cigarette smoke or staying in air-conditioned or overheated rooms.
Vocaler relieves temporary voice failure (voice projection problems), restoring vocal comfort. Vocaler spray is also a convenient breath refresher.
Kategoria Medical devices
Additional information
Does not contain preservatives. Does not contain sugar or sugar substitutes.
Composition
olive oil, almond oil, peppermint oil, Vitamin E, Vitamin A, polysorbate 80
Manufacturer
Aflofarm Farmacja Polska Spółka z o.o.
Information for the user
A medical device is intended for treatment of medical conditions or relief of their symptoms where the essential intended effect is achieved by means other than the use of pharmacological, immunological or metabolic agents.
See how we care about quality
All our products are subject to strict safety requirements
We use rigorous quality control standards and procedures to ensure the highest level of safety for all our products.
See how we care about safety