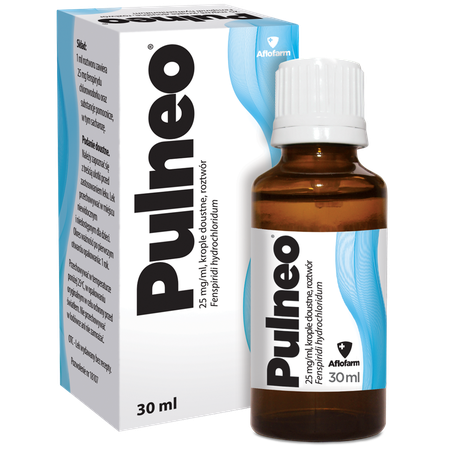 Pulneo, drops
Pulneo is a medicine in the form of oral drops. It contains fenspiride – an active substance providing anti-inflammatory and bronchodilatic properties. Fenspiride decreases the production of substances participating in inflammatory processes and blocks H1 receptors, thereby reducing oedema of the respiratory mucosa, excessive discharge, and bronchospasm.
Active substance
25 mg/ml of fenspiride hydrochloride (Fenspiridi hydrochloridum)
Indications
Symptomatic treatment (cough and expectoration) in the course of inflammatory lung and bronchial diseases. Note: symptomatic treatment should not delay the initiation of any antibiotic treatment, if necessary.
Contraindications
Hypersensitivity to the active substance or any of the other ingredients. Do not use in children under 2 years of age.
Marketing Authorisation Holder
Aflofarm Farmacja Polska Spółka z o.o.
Information for the patient
Read the package leaflet for indications, contraindications, side effects, dosage as well as information on the use of this product, or consult your doctor or pharmacist before use. Misusing medicines may be dangerous to your life or health.
See how we care about quality
All our products are subject to strict safety requirements
We use rigorous quality control standards and procedures to ensure the highest level of safety for all our products.
See how we care about safety