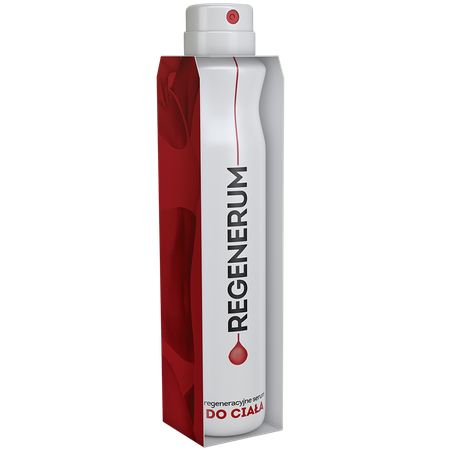 Regenerum regenerating body serum
Effective care even for very dry and dehydrated skin.

Provides long lasting hydration, firming and regeneration. Accelerates renewal of even very dry skin which becomes nourished and pleasant to touch.
- Effectively hydrates and nourishes skin
- Intensively regenerates
- Firms skin and improves flexibility
- Leaves skin smooth, soft and pleasant to touch
- Effectively soothes and relieves irritation
Has light and foamy texture for easy application and fast absorption.
Composition
Collagen, honey and passion fruit extracts, avocado extract, argan oil, galactomannans, panthenol
Marketing Authorization Holder
Aflofarm Farmacja Polska Spółka z o.o.
Information for the consumer
Cosmetics are substances intended for external contact with the human body: skin, hair, lips, nails, external genitals, teeth and mucous membranes of the mouth, used solely or principally for their purity, care, protection, perfumery or beautification.
See how we care about quality
All our products are subject to strict safety requirements
We use rigorous quality control standards and procedures to ensure the highest level of safety for all our products.
See how we care about safety