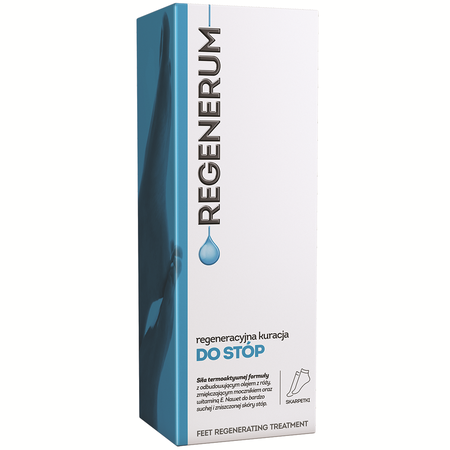 Regenerum regenerating feet treatment
Effective care even for very dry and damaged hand skin feet.

Regenerum socks provide professional thermoactive treatment for feet, ensuring long lasting hydration and nourishment for your skin with a gradual release of active ingredients.
- intensively nourishes and regenerates even very dry skin
- improves hydration
- restores flexibility and smooth feel
- relieves irritation
- effectively protects feet, improving the condition and look of skin;
- makes skin more resistant to harmful external influences.
Character Gloves. 1 units
Composition
Rose oil, urea, vitamin E, shea butter, hyaluronic acid, allantoin
Marketing Authorization Holder
Aflofarm Farmacja Polska Spółka z o.o.
Information for the consumer
Cosmetics are substances intended for external contact with the human body: skin, hair, lips, nails, external genitals, teeth and mucous membranes of the mouth, used solely or principally for their purity, care, protection, perfumery or beautification.
See how we care about quality
All our products are subject to strict safety requirements
We use rigorous quality control standards and procedures to ensure the highest level of safety for all our products.
See how we care about safety