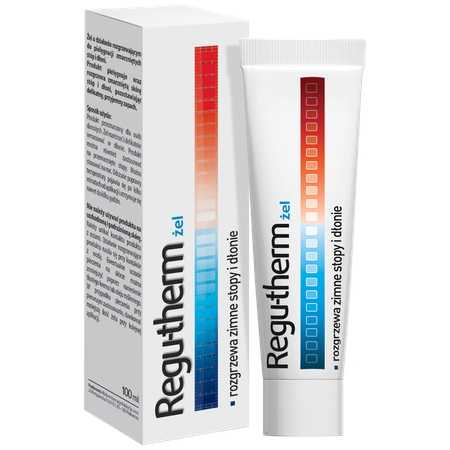 Regu-therm gel
Many people suffer from cold feet and hands, especially during fall and winter. When the temperature outside drops, the body begins to protect itself against hypothermia and the damage of vital organs such as heart or liver. The blood circulation system delivers more blood to the area of the chest and abdomen, at the expense of more distant body parts such as hands, legs, nose and ears. As a consequence, hands and feet become cold. Regu-therm: - helps maintain normal energy metabolism; - contributes to the normal transport of oxygen in the body; - ensures normal functioning of blood vessels; - contributes to the normal functioning of the nervous system. Regu-therm gel nurtures and warms the skin of feet and hands, leaving a gentle and pleasant smell. The feeling of warmth appears already after a dozen minutes from application and maintains for up to several hours. Regu-therm gel is intended for persons who suffer from cold feet and hands. It may be used during night time.
Pharmaceutical form gel. 100 g
Marketing Authorization Holder
Aflofarm Farmacja Polska Spółka z o.o.
Information for the consumer
Cosmetics are substances intended for external contact with the human body: skin, hair, lips, nails, external genitals, teeth and mucous membranes of the mouth, used solely or principally for their purity, care, protection, perfumery or beautification.
See how we care about quality
All our products are subject to strict safety requirements
We use rigorous quality control standards and procedures to ensure the highest level of safety for all our products.
See how we care about safety