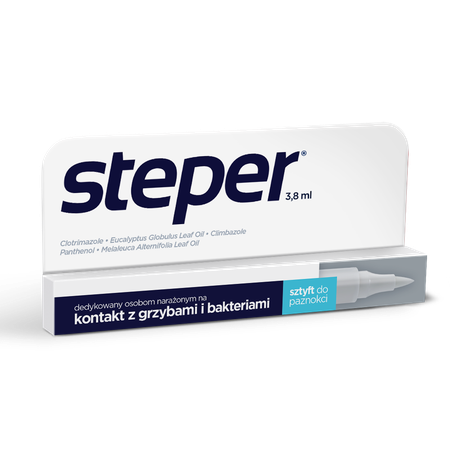 STEPER, stick
Steper nail stick is a cosmetic product containing a composition of five carefully selected ingredients protecting nails. It is intended for persons frequently exposed to contact with fungi and bacteria, especially persons pursuing sports or frequently attending public facilities (such as swimming pools, saunas or gyms). Steper's ingredients care for and strengthen the structure of the nail plate and support its regeneration. Steper smooths irregularities of regrowing nails and helps restore natural nail colour. Steper stick: - strengthens the nail plate, - smooths irregularities of regrowing nails, - helps restore natural nail colour.
Composition
Clotrimazole, Eucalyptus Globulus Leaf Oil, Panthenol, Climbazole, Melaleuca Alternifolia Leaf Oil
Marketing Authorization Holder
Aflofarm Farmacja Polska Spółka z o.o.
Information for the consumer
Cosmetics are substances intended for external contact with the human body: skin, hair, lips, nails, external genitals, teeth and mucous membranes of the mouth, used solely or principally for their purity, care, protection, perfumery or beautification.
See how we care about quality
All our products are subject to strict safety requirements
We use rigorous quality control standards and procedures to ensure the highest level of safety for all our products.
See how we care about safety