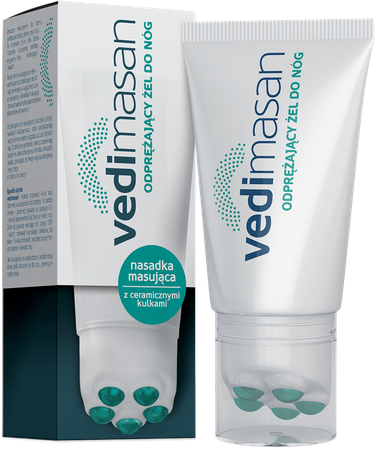 Vedimasan
Vedimasan relaxing leg gel intensively cares for the skin of tired legs and relieves the feeling of heavy legs.
A complex of extracts of butcher's-broom, lemon, European goldenrod, and horse chestnut tree, help maintain the natural elasticity of blood vessels in the superficial layers of the skin.
Menthol and panthenol have a cooling and soothing effect and bring relief to tired legs. The massaging head stimulates circulation of blood and lymph, helps relax tense muscles, and boosts deeper penetration of the gel ingredients into your skin.
Composition
panthenol, horse chestnut tree extract, butcher's-broom extract, lemon extract, European goldenrod extract, menthol
Marketing Authorization Holder
Aflofarm Farmacja Polska Spółka z o.o.
Information for the consumer
Cosmetics are substances intended for external contact with the human body: skin, hair, lips, nails, external genitals, teeth and mucous membranes of the mouth, used solely or principally for their purity, care, protection, perfumery or beautification.
See how we care about quality
All our products are subject to strict safety requirements
We use rigorous quality control standards and procedures to ensure the highest level of safety for all our products.
See how we care about safety