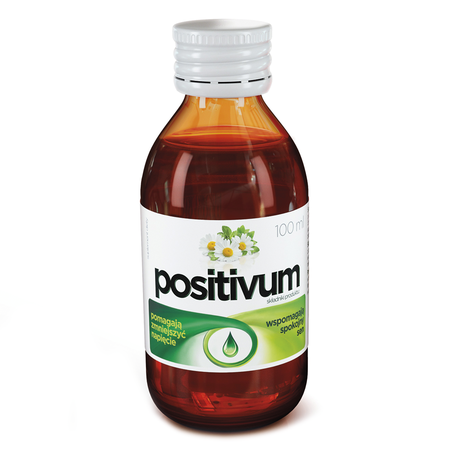 Positivum syrup
Positivum syrup is a food supplement containing natural ingredients which make falling asleep easier (rosa centifolia flower extract ) and promote relaxation ( lemon balm extract ). Formulated especially for persons preferring convenient liquid dosage forms.
Positivum syrup has low sugar content – contains only naturally occurring sugars: 1.7 g per 100 ml of product.
Kategoria Dietary suplement
Additional information
How to use: Adults: 2 teaspoons of syrup daily.
Take about 1 hour before bedtime.

Positivum syrup contains four ingredients which have long been recognised for their calming and relaxing properties:
lemon balm extract and chamomile flower extract help you stay in a good mood and promote relaxation,
linden flower extract promotes relaxation and helps maintain sound and healthy sleep,
rosa centifolia flower extract supports physiological process of falling asleep.
Composition
blackcurrant concentrate, lemon balm extract, chamomile flower extract, linden flower extract, rosa centifolia flower extract, raspberry flavour
Marketing Authorisation Holder
Aflofarm Farmacja Polska Spółka z o.o.
Information for the consumer
Food supplements should not be used as substitutes for a varied and well-balanced diet. A varied and balanced diet and healthy lifestyle are essential for good health.
See how we care about quality
All our products are subject to strict safety requirements
We use rigorous quality control standards and procedures to ensure the highest level of safety for all our products.
See how we care about safety