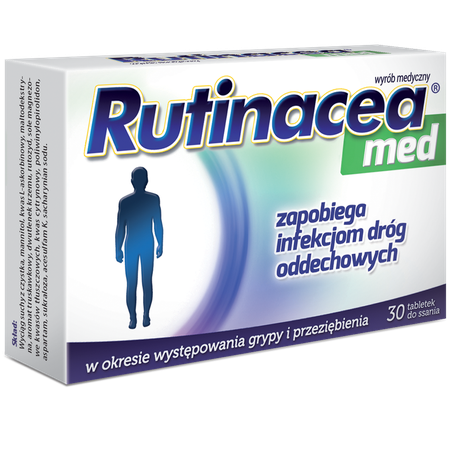 Rutinacea Med
Rutinacea Med can be used to prevent airway infections (e.g. during flu and cold season). It is also recommended to support the body once the initial symptoms of infection have appeared. Cistus polyphenols form a physical protective barrier on the oral mucosa lining to prevent viruses and bacteria from penetrating into the cells and their subsequent growth.
Kategoria Medical devices
Additional information
Special warnings and precautions:
Do not use Rutinacea Med if you are allergic to any ingredient in the product. Rutinacea Med contains a source of phenylalanine. It may be harmful to people with phenylketonuria. Do not use Rutinacea Med in children under 6 years of age. When taking Rutinacea Med with other medicines, leave at least two hours between taking Rutinacea Med and your other medicine. Check with your doctor if you are not sure.
Composition
Cistus dry extract, mannitol, L-ascorbic acid, maltodextrin, strawberry flavour, silicon dioxide, rutoside, magnesium salts of fatty acids, citric acid, polyvinylpyrrolidone, aspartame, sucralose, acesulfame K, sodium saccharin
Manufacturer
Aflofarm Farmacja Polska Spółka z o.o.
Information for the user
A medical device is intended for treatment of medical conditions or relief of their symptoms where the essential intended effect is achieved by means other than the use of pharmacological, immunological or metabolic agents.
See how we care about quality
All our products are subject to strict safety requirements
We use rigorous quality control standards and procedures to ensure the highest level of safety for all our products.
See how we care about safety