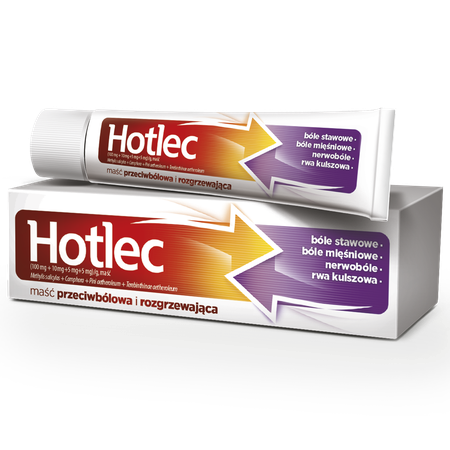 Hotlec
Hotlec – pain-relief and warming ointment.
Hotlec is used as a supplementary medicine to relieve pain of different origin including rheumatic, muscle and joint pain as well as pain related to neuralgia and sciatica. Hotlec ointment contains a well-known analgesic (pain killing) agent and has additional warming properties.
Active substance
Active ingredients: 1g of ointment contains 100 mg methyl salicylate (Methylis salicylas), 10 mg camphor (Camphora), 5 mg pine oil (Pini aetheroleum) and 5 mg Turpentine oil (Terebinthinae aetheroleum).
Indications
Indications for use: as a supplementary medicine to treat different types of pain, including joint, muscle sciatica and nerve pain.
Contraindications
Do not use Hotlec if you are allergic to the active ingredients or any of the other components of the product. Hotlec should not be used in children under 12 years of age. Do not use Hotlec if you have ever experienced asthma attacks, hives or nasal congestion after using non steroidal anti inflammatory drugs (NSAIDS) or any medicine containing acetylsalicylic acid. Do not apply the product to damaged skin, wounds, mucous membranes and around the eyes.
Marketing Authorisation Holder
Aflofarm Farmacja Polska Spółka z o.o.
Information for the patient
Read the package leaflet for indications, contraindications, side effects, dosage as well as information on the use of this product, or consult your doctor or pharmacist before use. Misusing medicines may be dangerous to your life or health.
See how we care about quality
All our products are subject to strict safety requirements
We use rigorous quality control standards and procedures to ensure the highest level of safety for all our products.
See how we care about safety