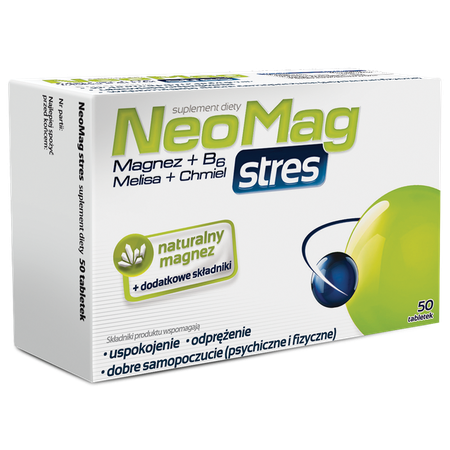 NeoMag stress
NeoMag stress contains ingredients which help you stay calm, relaxed and in good spirits (mentally and physically). Magnesium and vitamin B6 support the nervous system and help maintain healthy mental functions. Melissa extract contains active ingredients with mild sedative action. It helps you stay in good mood and maintain healthy cognitive functions. Similar to Melissa extract, hops extract promotes relaxation and good physical and mental well-being. It also supports calm and sound physiological sleep. NeoMag – More Than Magnesium
Kategoria Dietary suplement
Composition
– magnesium, vitamin B6, Melissa extract, hops extract
Marketing Authorisation Holder
Aflofarm Farmacja Polska Spółka z o.o.
Information for the consumer
Food supplements should not be used as substitutes for a varied and well-balanced diet. A varied and balanced diet and healthy lifestyle are essential for good health.
See how we care about quality
Each of our products undergoes security controls
We use the highest standards of quality control and procedures to ensure the highest level of safety for all our products.
See how we care about safety