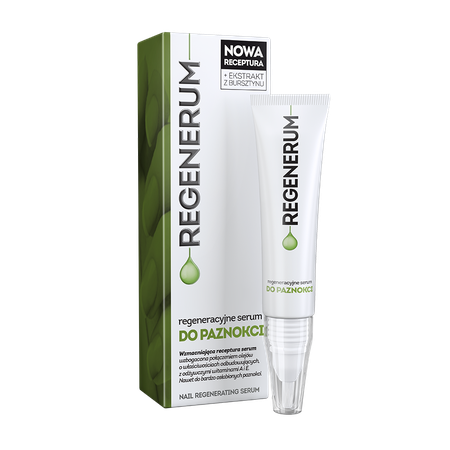 Regenerum regenerating nail serum
Effective care even for very brittle and fragile nails.

Strengthens, nourishes and protects nail plate, preventing it from splitting. Brightens discolorations and softens the cuticle.
- strengthens and regenerates the nail plate
- hydrates nails and improves flexibility
- prevents breaking and splitting
- brightens discolorations and evens out colour
- restores naturally beautiful and healthy look to the nails
- nourishes and softens the cuticle
Pharmaceutical form oil. 5 ml
Composition
Lentisk oil (Pistacia Lentiscus), lemon oil, grape seed oil, sweet almond oil, vitamin A and E, macadamia nut oil.
Marketing Authorization Holder
Aflofarm Farmacja Polska Spółka z o.o.
Information for the consumer
Cosmetics are substances intended for external contact with the human body: skin, hair, lips, nails, external genitals, teeth and mucous membranes of the mouth, used solely or principally for their purity, care, protection, perfumery or beautification.
See how we care about quality
All our products are subject to strict safety requirements
We use rigorous quality control standards and procedures to ensure the highest level of safety for all our products.
See how we care about safety