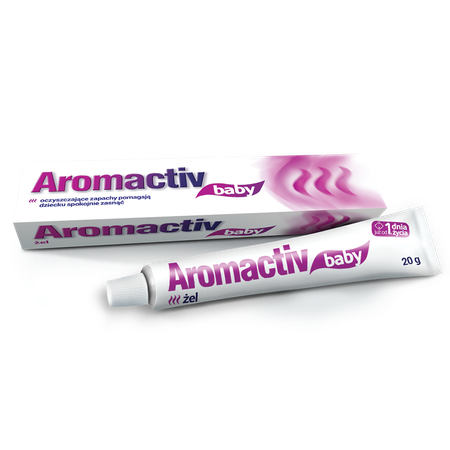 Aromactiv baby
Aromactiv baby gel is intended for children and babies from the first day of their life.
Massage with use of Aromactiv baby releases refreshing and purifying scents of pine, mint and eucalyptus, and helps your baby to relax and fall asleep calmly.
Oils contained in the Aromactiv baby gel have excellent nourishing properties. They lubricate your baby's gentle skin and strengthen its natural protective barrier. A mixture of extracts from avocado fruit, common marigold, and camomile flowers moisturize, soften and smooth out the skin. Aromactiv baby is free from terpenes (camphor, menthol, eucalyptol) and may be used safely from the first day of life.
The product is not recommended in premature babies.
Composition
panthenol, sunflower oil, soybean oil, grape seed oil, olive oil, vitamin E, vitamin A, oat milk, avocado fruit extract, camomile flower extract, common marigold extract; pine, mint and eucalyptus scents
Marketing Authorization Holder
Aflofarm Farmacja Polska Spółka z o.o.
Information for the consumer
Cosmetics are substances intended for external contact with the human body: skin, hair, lips, nails, external genitals, teeth and mucous membranes of the mouth, used solely or principally for their purity, care, protection, perfumery or beautification.
See how we care about quality
All our products are subject to strict safety requirements
We use rigorous quality control standards and procedures to ensure the highest level of safety for all our products.
See how we care about safety