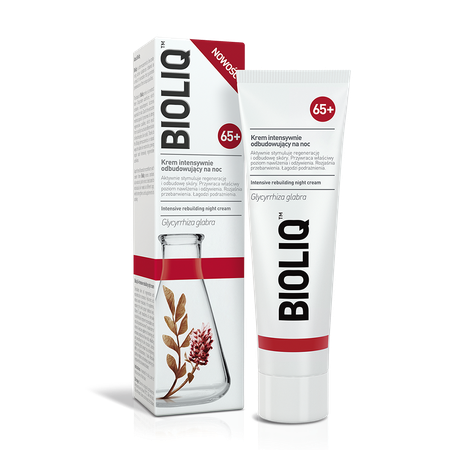 Bioliq 65+ Intensive rebuilding night cream
Actively stimulates skin regeneration and reconstruction. Restores proper level of hydration and nourishment. Brightens discolorations. Soothes irritations.

Intensively stimulates the process of regeneration and reconstruction of skin during the night. Hyaluronic acid retains water molecules within the epidermis, thus restoring proper hydration. Active form of vitamin A balances the keratinization processes. Reduces the thickness of the stratum corneum as well as increases the production of new cells, thus rebuilding and smoothing the skin structure. Licorice (Glycyrrhiza glabra) extract provides a brightening effect on discolorations caused by either sunlight or ageing. Effectively soothes irritation and redness, reversing negative effects of external factors.
Pharmaceutical form cream. 50 ml
Pharmaceutical form cream. 50 ml
Composition
Licorice (Glycyrrhiza glabra)
Marketing Authorization Holder
Aflofarm Farmacja Polska Spółka z o.o.
Information for the consumer
Cosmetics are substances intended for external contact with the human body: skin, hair, lips, nails, external genitals, teeth and mucous membranes of the mouth, used solely or principally for their purity, care, protection, perfumery or beautification.
See how we care about quality
All our products are subject to strict safety requirements
We use rigorous quality control standards and procedures to ensure the highest level of safety for all our products.
See how we care about safety