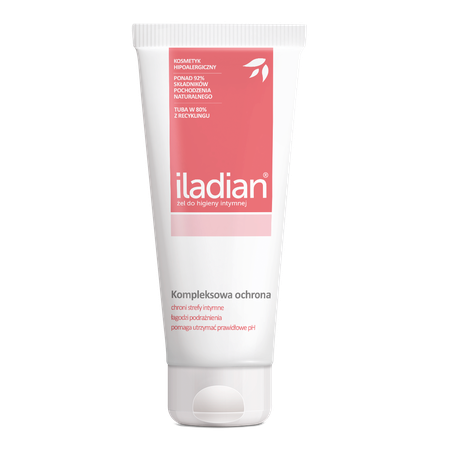 Iladian Intimate hygiene gel
Iladian is a hypoallergenic gel intended both for protection against harmful microorganisms or irritation and for intimate area care in situations requiring additional support. The antibacterial activity of Iladian gel's ingredients (cranberry and licorice extract) help eliminate the discomfort associated with excessive vaginal discharge – the itching sensation and unpleasant smell. The composition is also enhanced with prebiotic which stimulates beneficial flora of the skin and with lactic acid responsible for maintaining correct pH.
Pharmaceutical form gel. 180 ml
Marketing Authorization Holder
Aflofarm Farmacja Polska Spółka z o.o.
Information for the consumer
Cosmetics are substances intended for external contact with the human body: skin, hair, lips, nails, external genitals, teeth and mucous membranes of the mouth, used solely or principally for their purity, care, protection, perfumery or beautification.
See how we care about quality
All our products are subject to strict safety requirements
We use rigorous quality control standards and procedures to ensure the highest level of safety for all our products.
See how we care about safety