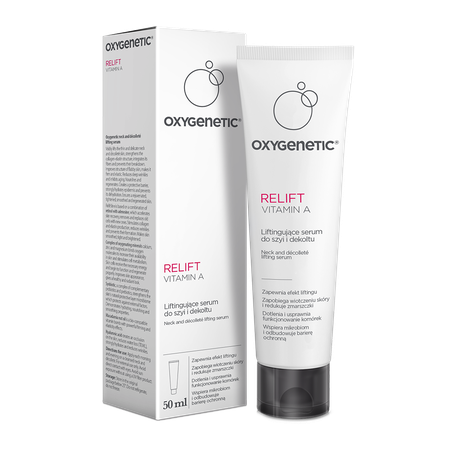 Oxygenetic neck and décolleté lifting serum
Anti-ageing formula for thin, delicate and loose skin of your neck and décolletage. Lift-up serum to enhance collagen-elastin structure for improved firmness and elasticity of skin texture and prevent fibre thermal decomposition.

This serum is anti-ageing golden standard for very thin and getting-loose skin to make it visibly lifted and firmed. This serum smoothes deep lines and wrinkles, prevents new to form and slows down ageing processes in the skin. Shields the skin with the protective barrier to keep epidermis hydrated and keep in moisture. Feverishly oxygenating minerals in this serum revive for long lasting skin radiance and glow.

Firmed and lifted effect

Quick, lasting and spectacular lift up effect.

Suitable if skin becomes saggy and fine lines appear.

Allows for more oxygen to get into dermis and brings energy to your skin.

Improves microbiome and restores protective barrier.
Marketing Authorization Holder
Aflofarm Farmacja Polska Spółka z o.o.
Information for the consumer
Cosmetics are substances intended for external contact with the human body: skin, hair, lips, nails, external genitals, teeth and mucous membranes of the mouth, used solely or principally for their purity, care, protection, perfumery or beautification.
See how we care about quality
All our products are subject to strict safety requirements
We use rigorous quality control standards and procedures to ensure the highest level of safety for all our products.
See how we care about safety