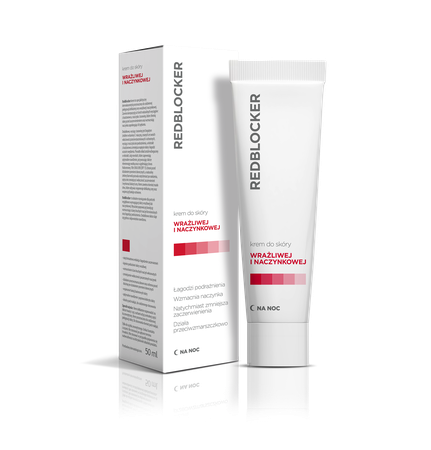 RedBlocker krem na noc
RedBlocker night cream is a specialist skincare product for delicate skin prone to irritation and redness.
The rich formula is based on three natural extracts of chestnut, butcher's-broom and cranberry which protect the skin from redness and strengthen blood vessel walls to prevent spider veins. The cream is additionally fortified with ginkgo extract which supports skin cell regeneration during sleep, stimulates microcirculation and protects blood vessels.

RedBlocker night cream also contains acmella extract that stimulates fibroblast action to reduce wrinkles and improve skin density as well as nourishing shea butter which supports regeneration of the skin's protective lipid barrier.

Redblocker night cream:
- stimulates skin cell regeneration
-strengthens capillaries
- prevents redness
- thoroughly hydrates and nourishes skin
Pharmaceutical form drops. 50 ml
Composition
horse chestnut, butcher's-broom (ruscus aculeatus), American cranberry, ginkgo, acmellia, shea butter.
Marketing Authorization Holder
Aflofarm Farmacja Polska Spółka z o.o.
Information for the consumer
Cosmetics are substances intended for external contact with the human body: skin, hair, lips, nails, external genitals, teeth and mucous membranes of the mouth, used solely or principally for their purity, care, protection, perfumery or beautification.
See how we care about quality
All our products are subject to strict safety requirements
We use rigorous quality control standards and procedures to ensure the highest level of safety for all our products.
See how we care about safety