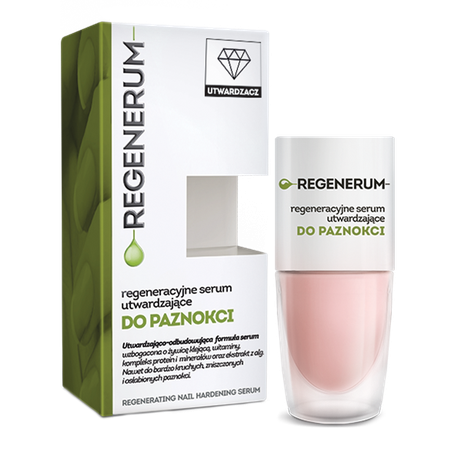 Regenerum regenerating hardening nail serum
Regenerum regenerative hardening serum for nails provides a hard and durable protective barrier. Effectively prevents cracking, crumbling and splitting of the plate. Precisely selected serum formula rebuilds even very brittle, damaged and weak nails. Intensively strengthens and hardens the nail plate, protecting it against mechanical damage. The adhesive resin contained in the serum protects nails and provides a protective shield. Serum stays on the plate for up to 7 days. Protein and mineral complex rebuilds plates, stimulates their growth and reduces fragility. Vitamins present in serum nourish, make nails more flexible and have antioxidant properties. Additionally, algae extract intensively moisturizes and acts as an antioxidant.
Pharmaceutical form lacquer. 8 ml
Marketing Authorization Holder
Aflofarm Farmacja Polska Spółka z o.o.
Information for the consumer
Cosmetics are substances intended for external contact with the human body: skin, hair, lips, nails, external genitals, teeth and mucous membranes of the mouth, used solely or principally for their purity, care, protection, perfumery or beautification.
See how we care about quality
All our products are subject to strict safety requirements
We use rigorous quality control standards and procedures to ensure the highest level of safety for all our products.
See how we care about safety