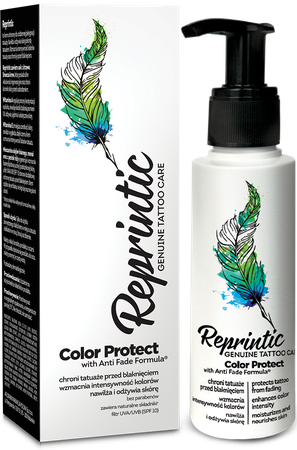 Reprintic
Reprintic is a protective cream for everyday care of your tattoos. It moisturizes and nourishes tattooed skin. It intensifies the colours of tattoos and makes their lines sharper. It contains a UVB (SPF 15) sunscreen, providing additional protection against tattoo fading.
Composition
dragon's blood juice, linen oil, monoi oil, sweetbriar rose seed oil, vitamin A, vitamin E
Marketing Authorization Holder
Aflofarm Farmacja Polska Spółka z o.o.
Information for the consumer
Cosmetics are substances intended for external contact with the human body: skin, hair, lips, nails, external genitals, teeth and mucous membranes of the mouth, used solely or principally for their purity, care, protection, perfumery or beautification.
See how we care about quality
All our products are subject to strict safety requirements
We use rigorous quality control standards and procedures to ensure the highest level of safety for all our products.
See how we care about safety