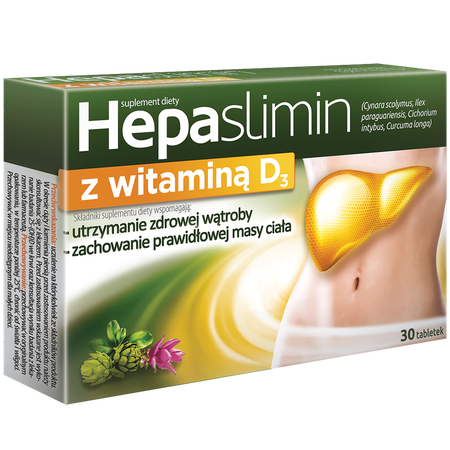 Hepaslimin with vitamin D3
Hepaslimin with vitamin D3 is a food supplement containing vitamin D3 which promotes proper functioning of the immune system, it also contains choline, which is a naturally occurring ingredient in the body found in phospholipids which build the cell membrane of every living cell. The artichoke leaf extract contained in the preparation contributes to the proper functioning of the digestive juices and helps maintain a healthy liver. Chicory root extract aids digestion and helps maintain a healthy liver function. Turmeric extract (Curcuma Longa) supports the proper lipid metabolism and prevents fat accumulation in the liver. Paraguay Holly leaves extract supports the process of lipid breakdown and helps maintain a healthy body weight.
Pharmaceutical form tablets. 30 tab.
Category Dietary suplement
Composition
L-ornithine L-aspartate 600 mg, Choline 210 mg, Artichoke leaf extract 150 mg, Holly leaf extract 150 mg, Chicory root extract 60 mg, Turmeric extract 60 mg, Vitamin D
Marketing Authorisation Holder
Aflofarm Farmacja Polska Spółka z o.o.
Information for the consumer
Food supplements should not be used as substitutes for a varied and well-balanced diet. A varied and balanced diet and healthy lifestyle are essential for good health.
See how we care about quality
All our products are subject to strict safety requirements
We use rigorous quality control standards and procedures to ensure the highest level of safety for all our products.
See how we care about safety