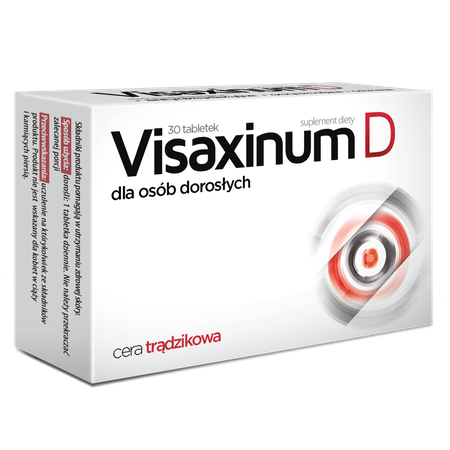 Visaxinum D
Visaxinum D is a food supplement for adults containing ingredients which support healthy and good looking skin from the inside out, promote detoxification (dandelion root extract) and protect the body against the harmful effects of free radicals (green tea leaf extract). They also help maintain normal blood sugar levels (Gymnema sylvestre leaf extract), support healthy liver (turmeric rhizome extract) and help you stay in a good mood (lemon balm extract).
Category Dietary suplement
Additional information
Ingredients: bulking agent: cellulose, violet tricolor extract, zinc gluconate, dandelion extract Medicinal products, turmeric extract, lemon balm herb extract, Gymnema sylvestre leaf extract, substance glazing: hydroxypropyl methylcellulose, nicotinic acid amide, green tea leaf extract, glazing: magnesium salts of fatty acids, anti-caking agent: silicon dioxide, substance filling: cross-linked sodium carboxymethylcellulose, color: calcium carbonate, glazing agent: hydroxypropyl cellulose, pyridoxine hydrochloride, glazing agents: white beeswax and carnauba wax.
Marketing Authorisation Holder
Aflofarm Farmacja Polska Spółka z o.o.
Information for the consumer
Food supplements should not be used as substitutes for a varied and well-balanced diet. A varied and balanced diet and healthy lifestyle are essential for good health.
See how we care about quality
All our products are subject to strict safety requirements
We use rigorous quality control standards and procedures to ensure the highest level of safety for all our products.
See how we care about safety