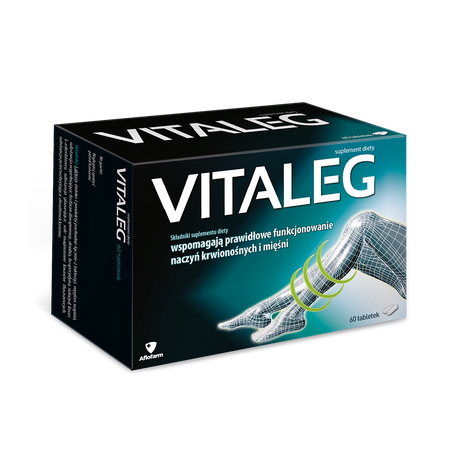 Vitaleg
The product complements the daily diet with calcium, vitamin C and substances belonging to the flavonoid group.

The ingredients of Vitaleg food supplement support the proper functioning of blood vessels (vitamin C) and muscles (calcium).
Pharmaceutical form tablets. 60 tab.
Category Dietary suplement
Additional information
Directions for use: Adults: 1 tablet 2 times a day.

Do not exceed the recommended daily dose. The food supplement cannot be used as a substitute of a varied diet.

A varied diet and a healthy lifestyle are important for your health.

Storage: Store in the original package at a temperature below 25°C. Protect against the light and moisture. Keep out of the reach of children.
Composition
Lactose, calcium carbonate, bulking agent: dicalcium phosphate, starch, hesperidin, rutoside, L-ascorbic acid, glazing agent: magnesium salts of fatty acids, anti-caking agent: carbon dioxide.

The product contains milk and products thereof (including lactose).
Contraindications
Allergy to any product ingredient. During pregnancy and lactation the decision to use this product should be made in consultation with a doctor.
Marketing Authorisation Holder
Aflofarm Farmacja Polska Spółka z o.o.
Information for the consumer
Food supplements should not be used as substitutes for a varied and well-balanced diet. A varied and balanced diet and healthy lifestyle are essential for good health.
See how we care about quality
All our products are subject to strict safety requirements
We use rigorous quality control standards and procedures to ensure the highest level of safety for all our products.
See how we care about safety