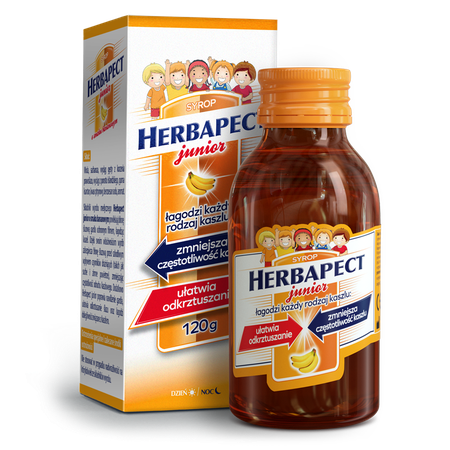 Herbapect junior banana flavour
Herbapect junior is a syrup that will definitely be appreciated by both you and your kids thanks to its delicious taste and natural extracts.
Herbapect junior is a perfect solution for any type of cough. It reduces its frequency and facilitates expectoration.

Components of Herbapect junior banana flavour cover the pharyngeal mucosa with a protective film, thereby reducing cough. Thanks to its properties, the product protects the mucosa from the detrimental effect of irritants (such as dry and cold air), thus reducing the frequency of the coughing reflex. Herbapect junior also improves throat moisturization, facilitates expectoration of sputum, and alleviates cough symptoms.

How to use: children over 3 years of age: 5 ml five times daily. A dosing cup facilitating drug administration is attached to the packaging. Directly after administration, do not give any food or drink to your child for about 30 minutes.
Character Syrup. 120 g
Character Syrup. 120 g
Additional information
The product must be used under the supervision of an adult person. If there is no improvement after 5 days of use, consult a doctor. Do not use the product in case of hypersensitivity to any of its components.
Composition
Water, sucrose, marshmallow root dense extract, Iceland moss extract, xanthan gum, citric acid, sodium benzoate, flavour.
Manufacturer
Aflofarm Farmacja Polska Spółka z o.o.
Information for the user
A medical device is intended for treatment of medical conditions or relief of their symptoms where the essential intended effect is achieved by means other than the use of pharmacological, immunological or metabolic agents.
See how we care about quality
All our products are subject to strict safety requirements
We use rigorous quality control standards and procedures to ensure the highest level of safety for all our products.
See how we care about safety