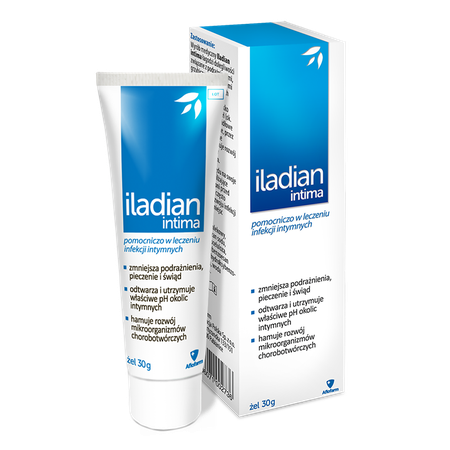 Iladian Intima
Iladian intima ensures appropriate pH by limiting the growth of pathogenic microorganisms. It reduces unpleasant smell, itching and burning, and relieves the discomfort related to irritation or dryness of external genitals.
Additional information
Do not use the product if you are allergic to any of its ingredients. Avoid contact with eyes. Do not use on damaged mucous membranes and skin. Iladian intima must not be used with other products of similar action. Ingredients: lactic acid, glycerol, sodium lactate, hydroxy ethyl cellulose, methyl parahydroxybenzoate, propyl parahydroxybenzoate, purified water.
Manufacturer
Aflofarm Farmacja Polska Spółka z o.o.
Information for the user
A medical device is intended for treatment of medical conditions or relief of their symptoms where the essential intended effect is achieved by means other than the use of pharmacological, immunological or metabolic agents.
See how we care about quality
All our products are subject to strict safety requirements
We use rigorous quality control standards and procedures to ensure the highest level of safety for all our products.
See how we care about safety