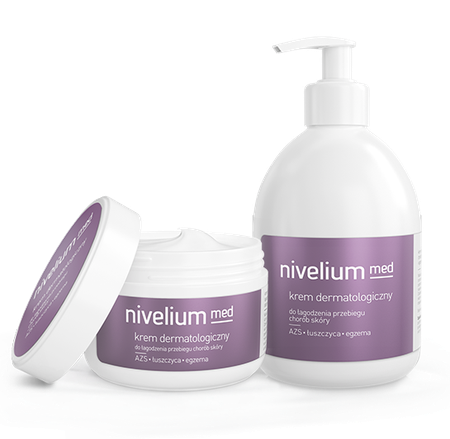 Nivelium Med dermatological cream
Dermatological cream designed to alleviate skin diseases such as atopic dermatitis, psoriasis and eczema.

Greases and creates a protective barrier on the skin surface that prevents transepidermal water loss. Therefore, it effectively soothes irritated skin conditions such as dryness, itching, redness and cracking of the epidermis. It makes the skin moisturized, soft and more elastic.
In addition, the protective barrier created on the skin reduces the skin's susceptibility to mechanical damage and reduces itching, limits the need to scratch, thus preventing secondary infections.

No preservatives, colours or fragrances.
Character Creme. 450 g
Character Creme. 250 g
Additional information
It is recommended to use immediately after bathing or washing. To achieve greater relief in the event of skin pruritus, the cream can be cooled before application. Do not use in case of hypersensitivity to any component of the product and in combination with other skin products.

Available in packages: 250g and 450g
Composition
Paraffin oil, white vaseline, hyaluronic acid
Manufacturer
Aflofarm Farmacja Polska Spółka z o.o.
Information for the user
A medical device is intended for treatment of medical conditions or relief of their symptoms where the essential intended effect is achieved by means other than the use of pharmacological, immunological or metabolic agents.
See how we care about quality
All our products are subject to strict safety requirements
We use rigorous quality control standards and procedures to ensure the highest level of safety for all our products.
See how we care about safety