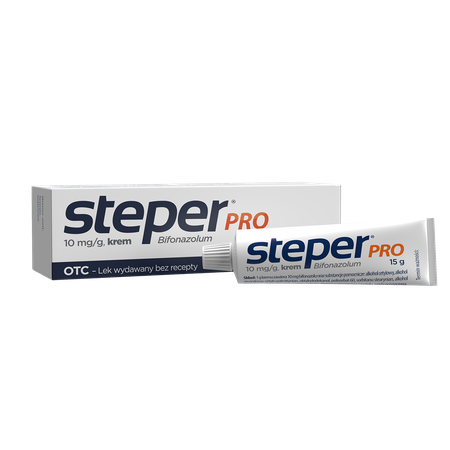 STEPER PRO, krem
STEPER PRO, in the form of a foot cream, is a medicine containing the active substance bifonazole, which shows a broad-spectrum antifungal activity. It is intended for persons frequently exposed to contact with fungi and bacteria, especially persons pursuing sports or frequently attending public facilities such as swimming pools, saunas or gyms.
Pharmaceutical form Creme. 15 g
Additional information
Has no effect on the ability to drive vehicles. After doctor's consultation, may be used by breastfeeding mothers (not in the first trimester). May cause topical skin reactions (such as contact dermatitis).
Active substance
1 g of cream contains 10 mg of bifonazole (Bifonazolum)
Indications
Steper Pro should be used in the topical treatment of fungal skin infections (caused by dermatophytes, yeasts, moulds, and other fungi species) such as: fungal infections of the hands and feet, ringworm, jock itch, tinea versicolor, mucosal candidiases. It may also be used in the topical treatment of erythrasma.
Contraindications
Hypersensitivity to the active substance or any other ingredients.
Marketing Authorisation Holder
Aflofarm Farmacja Polska Spółka z o.o.
Information for the patient
Read the package leaflet for indications, contraindications, side effects, dosage as well as information on the use of this product, or consult your doctor or pharmacist before use. Misusing medicines may be dangerous to your life or health.
See how we care about quality
All our products are subject to strict safety requirements
We use rigorous quality control standards and procedures to ensure the highest level of safety for all our products.
See how we care about safety