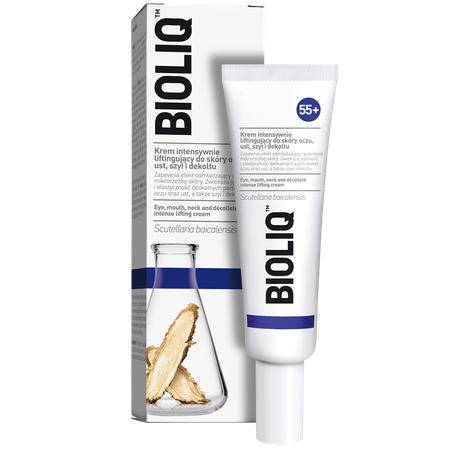 Bioliq 55+ eye, mouth, neck and décolleté intensive lifting cream
Provides a rejuvenating effect and improves the skin microrelief. Improves the firmness and resilience of delicate skin areas around the eyes, lips neck and décolleté. &Nbsp;

The cream has been specially developed to address the needs of delicate, thin and sensitive skin around the eyes, mouth, neck, and décolleté. It provides strong rejuvenating and lifting effects for especially demanding skin areas as well as slows-down the ageing processes and stimulates intensive skin regeneration due to the presence of baicalin obtained from Baikal skullcap (Scutellaria baicalensis). Prevents aging, firms and improves resilience of the skin, restoring its ability to stretch. With regular application, the cream improves skin microrelief, providing an intensive lifting treatment.
Pharmaceutical form cream. 30 ml
Composition
baicalin from Baikal skullcap (Scutellaria baicalensis).
Marketing Authorization Holder
Aflofarm Farmacja Polska Spółka z o.o.
Information for the consumer
Cosmetics are substances intended for external contact with the human body: skin, hair, lips, nails, external genitals, teeth and mucous membranes of the mouth, used solely or principally for their purity, care, protection, perfumery or beautification.
See how we care about quality
All our products are subject to strict safety requirements
We use rigorous quality control standards and procedures to ensure the highest level of safety for all our products.
See how we care about safety