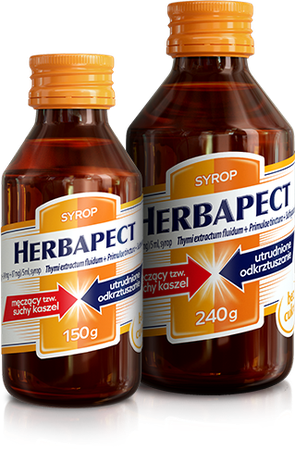 Herbapect
Herbapect syrup has been part of the household medicine boxes for many years. It is no surprise really, as it is a medicine which helps in persisting dry cough and in difficult expectoration.
Additional information
The syrup contains no sugar and may be used by diabetics. There is no data on the effect on the ability to drive vehicles and operate machinery. The use of the product is harmful in persons with alcohol dependence. Alcohol content must be considered when using the medicine in children and adolescents and in persons from the high risk group, such as patients with liver disease or epilepsy.
Active substance
5 ml of syrup contains the following active substances:

498 mg of thyme herb liquid extract Thymus vulgaris L., (herba)
349 mg of cowslip tincture Primula veris L., (radix)
87 mg of guaiacolsulfonate (Sulfogaiacolum).
Indications
Traditionally in upper respiratory tract infections.
Persisting dry cough.
Difficult expectoration.
Contraindications
Hypersensitivity to the active substances or the excipient. Asthma. Do not use in children with a history of acute laryngitis (croup).
Marketing Authorisation Holder
Aflofarm Farmacja Polska Spółka z o.o.
Information for the patient
Read the package leaflet for indications, contraindications, side effects, dosage as well as information on the use of this product, or consult your doctor or pharmacist before use. Misusing medicines may be dangerous to your life or health.
See how we care about quality
All our products are subject to strict safety requirements
We use rigorous quality control standards and procedures to ensure the highest level of safety for all our products.
See how we care about safety