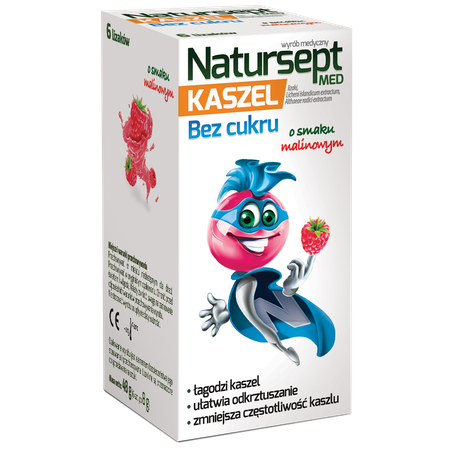 Natursept med cough sugar-free lollipops
Medical device Natursept MED cough sugar-free lollipops with raspberry flavor coats the throat mucosa with a protective film, and thus:
• relieves cough
• facilitates expectoration
• reduces the frequency of coughing

The ingredients of Natursept med cough sugar-free lollipops coat the pharyngeal mucosa with a protective film, soothing the cough. Thanks to its properties, the product protects the pharyngeal mucosa from the harmful effects of irritants (such as dry or cold air), reducing the frequency of the cough reflex. Additionally, Natursept med cough sugar-free lollipops improves pharyngeal hydration and facilitates the expectoration of mucus. In addition, thanks to its soothing properties, the product helps to restore the balance of the cough-irritated throat mucous membrane.
Additional information
The product may be used by persons who control their daily carbohydrate and diabetes intake - diabetes is not contraindicated.
One lollipop provides 0.001 WW (bread units).

Directions for use
Children over 3 years of age: 1 lollipop not more than three times a day. The product should be used under adult supervision.
In case of lack of improvement after 5 days of use, consult a doctor.

Special warnings and recommended precautions
Do not use in case of hypersensitivity to any of the product's ingredients or in case of hereditary fructose intolerance. Laxative effects may occur in case of a single consumption of more than the recommended dose.

Place and conditions of storage
Keep out of the reach of children. Store in the original packaging. Protect from light and moisture. Ensure that the product is stored under proper conditions. Do not use the product after its expiration date. The product packaging constitutes an element of safety of its use and storage. Lollipops are not intended to be sold by the piece.
Composition
isomalt, citric acid, natural flavor, betaine, ascorbic acid, Icelandic moss extract, marshmallow root extract, chokeberry concentrate. Sugar-free (sucrose).
Manufacturer
Aflofarm Farmacja Polska Spółka z o.o.
Information for the user
A medical device is intended for treatment of medical conditions or relief of their symptoms where the essential intended effect is achieved by means other than the use of pharmacological, immunological or metabolic agents.
See how we care about quality
All our products are subject to strict safety requirements
We use rigorous quality control standards and procedures to ensure the highest level of safety for all our products.
See how we care about safety