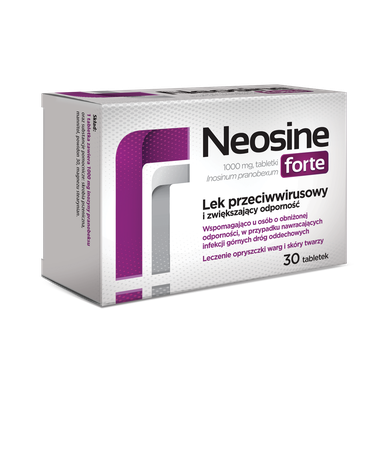 Neosine forte tablets
Neosine forte, tablets is an antiviral and immunostimulating medicine available without a prescription (OTC). It contains a double dose of the active substance – inosine pranobex1 in each single tablet. It is recommended as a complementary medicine in patients with impaired or weakened immune system and in recurrent upper airway infections. Inosine also inhibits the growth of human herpesviruses which are responsible for cold sores on the lips and around the mouth (herpes).

1Compared to Neosine 500 mg tablets
Additional information
Wash the tablet down with plenty of liquid, preferably clean water. Crush and dissolve the tablet in a small amount of water if you have trouble swallowing it whole.
Children are recommended to take Neosine forte syrup.
Active substance
1000 mg of inosine pranobex (Inosinum pranobexum)
Indications
For use as a complementary drug in patients with impaired or weakened immune system and in recurrent upper airway infections. For treatment of cold sores on the lips and around the mouth caused by herpes simplex virus.
Contraindications
Do not use Neosine forte tablets: in patients allergic to the active substance or any of the other ingredients in the product; in patients currently suffering from a gout attack or with increased levels of uric acid in the blood.
Marketing Authorisation Holder
Aflofarm Farmacja Polska Spółka z o.o.
Information for the patient
Read the package leaflet for indications, contraindications, side effects, dosage as well as information on the use of this product, or consult your doctor or pharmacist before use. Misusing medicines may be dangerous to your life or health.
See how we care about quality
All our products are subject to strict safety requirements
We use rigorous quality control standards and procedures to ensure the highest level of safety for all our products.
See how we care about safety