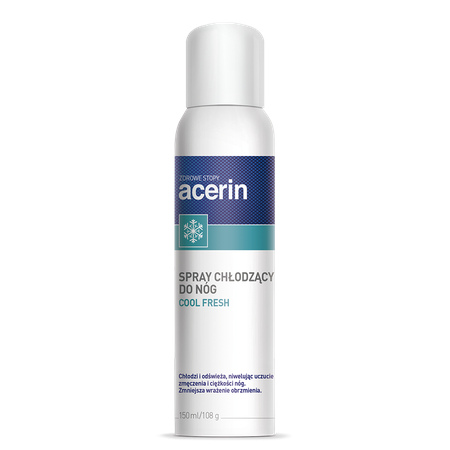 Acerin Cool Fresh cooling spray
The spray effectively nourishes, hydrates and cools the skin, providing a feeling of lightness and relaxation to your legs and feet. The active ingredients: horse chestnut extracts, arnica and hesperidin relieve the feeling of swollen feet while D-panthenol hydrates the skin and improves resilience, making it soft and smooth to the touch. The product also contains menthol for pleasant cool and fresh feel.
Pharmaceutical form spray. 150 ml
Additional information
Indications:
- tired and heavy legs
- swollen hands, legs and feet />- working in standing or sitting position
- travelling and hot weather

How to use: Spray your legs several times a day. Use on an as needed basis. The product can also be sprayed directly on the tights.

How to store: Store in original pack below 25°C. Do not freeze or refrigerate.
Marketing Authorization Holder
Aflofarm Farmacja Polska Spółka z o.o.
Information for the consumer
Cosmetics are substances intended for external contact with the human body: skin, hair, lips, nails, external genitals, teeth and mucous membranes of the mouth, used solely or principally for their purity, care, protection, perfumery or beautification.
See how we care about quality
All our products are subject to strict safety requirements
We use rigorous quality control standards and procedures to ensure the highest level of safety for all our products.
See how we care about safety