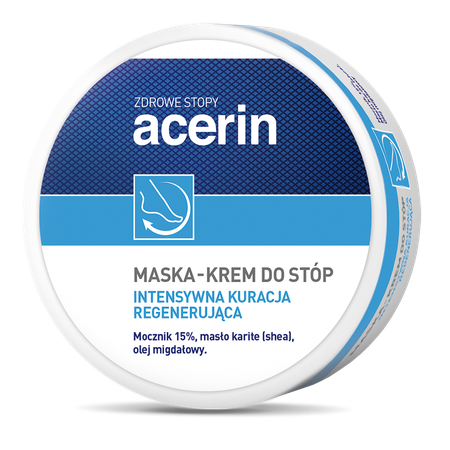 Acerin Mask foot cream
Creamy foot mask recommended even for very dry, rough and thick skin. The rich formula provides three-step skincare action: softening, hydration and regeneration. The product has been fortified with protein-rich sweet almond oil and A, E and B vitamins to reinforce the skin's natural protective barrier. Karite butter restores skin softness and resilience. Urea, provitamin B5, glycerine and NMF complex intensively soften, hydrate and improve skin elasticity while soothing irritation.
Pharmaceutical form cream. 125 ml
Additional information
How to use: Soak your feet in warm water, dry and apply a thick layer of the mask. Put on cotton socks and allow the cream to absorb overnight. Repeat 1 – 2 times a week.

How to store: Store in original pack below 25°C. Do not freeze or refrigerate.
Marketing Authorization Holder
Aflofarm Farmacja Polska Spółka z o.o.
Information for the consumer
Cosmetics are substances intended for external contact with the human body: skin, hair, lips, nails, external genitals, teeth and mucous membranes of the mouth, used solely or principally for their purity, care, protection, perfumery or beautification.
See how we care about quality
All our products are subject to strict safety requirements
We use rigorous quality control standards and procedures to ensure the highest level of safety for all our products.
See how we care about safety