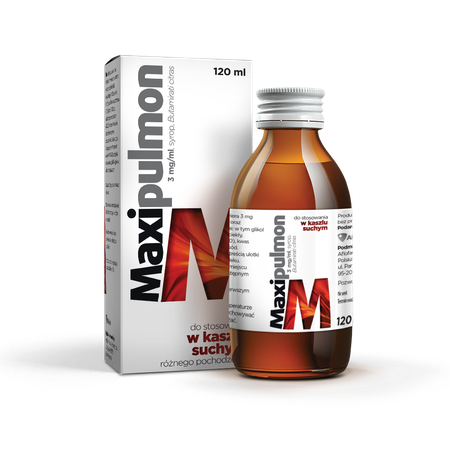 Maxipulmon, syrup
Maxipulmon is a syrup for use in dry cough of different origin. It is the only syrup containing a double-concentrated dose of the active substance Butamirati citras* – 3 mg in 1 ml. Butamirate citrate has antitussive (cough relief) action as well as non-specific anticholinergic and bronchodilating effects for easier breathing. Maxipulmon does not cause dependence or addiction. It can be used in children already from the third year of life. With a concentrated formula, Maxipulmon is administered in very small doses for convenient use even in small children.
* The only syrup with a double-concentrated dose of the active substance Butamirati citras in 1 ml (i.e. 3 mg in 1 ml compared to syrups containing 1.5 mg in 1 ml). Reference: URPL data available in http://pub.rejestrymedyczne.csioz.gov.pl, as at 12.12.2017 r.
Active substance
3 mg/ml butamirate citrate (Butamirati citras)
Indications
Symptomatic treatment of non-productive (dry) cough of various origin.
Contraindications
Hypersensitivity (allergy) to the active substance or any of the other ingredients in the product. First trimester of pregnancy.
Marketing Authorisation Holder
Aflofarm Farmacja Polska Spółka z o.o.
Information for the patient
Read the package leaflet for indications, contraindications, side effects, dosage as well as information on the use of this product, or consult your doctor or pharmacist before use. Misusing medicines may be dangerous to your life or health.
See how we care about quality
All our products are subject to strict safety requirements
We use rigorous quality control standards and procedures to ensure the highest level of safety for all our products.
See how we care about safety