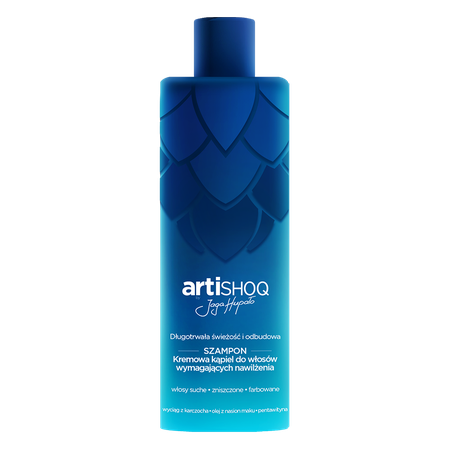 ARTISHOQ Creamy Bath for hair that needs moisturizing
Shampoo

Long-term freshness and recovery Creamy hair bath both cleanses and nourishes hair and scalp. Combination of creatine with artichoke extract revitalizes damage to the hair structure caused by external factors, making it less brittle and more resilient. Poppy seed oil moisturizes and regenerates damaged hair for a long time, restoring shine without the greasy effect. Pentavitin and pro-vitamin B5 moisturize the scalp, reducing its tendency to peeling and itching, as well as reduce skin sensitivity and redness. The shampoo protects the ends from splitting and makes them easier to comb and manage. Hair becomes smooth, soft and visibly nourished already after the first use.
Pharmaceutical form shampoo. 200 ml
Additional information
Directions for use: Apply to wet hair and scalp. Massage thoroughly to obtain a foam. Rinse thoroughly after 2-3 minutes. Repeat if necessary.
Contraindications: Hypersensitivity to any of the product ingredients.
Marketing Authorization Holder
Aflofarm Farmacja Polska Spółka z o.o.
Information for the consumer
Cosmetics are substances intended for external contact with the human body: skin, hair, lips, nails, external genitals, teeth and mucous membranes of the mouth, used solely or principally for their purity, care, protection, perfumery or beautification.
See how we care about quality
All our products are subject to strict safety requirements
We use rigorous quality control standards and procedures to ensure the highest level of safety for all our products.
See how we care about safety