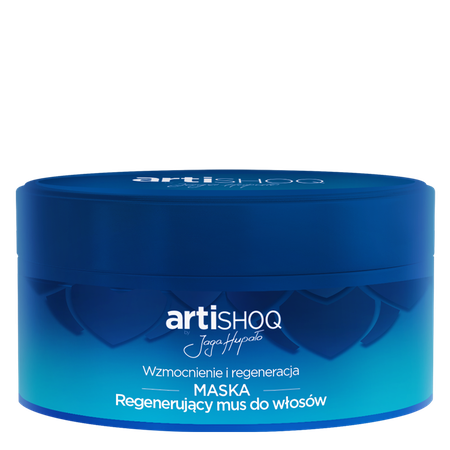 ARTISHOQ Regenerating Hair Mousse
MASK

Strengthening and regeneration

Regenerating hair mousse instantly nourishes and conditions hair to protect against moisture loss. Combination of creatine with artichoke extract protects hair keratin and repairs damage cause by free radicals. Prevents dullness and adds shine to hair and makes it more resistant to external factors. The amino acid cocktail moisturizes, regenerates and strengthens the hair fiber for a long time. The complex of macadamia, cotton and coconut oils together with the active substance derived from honey smooth the hair and protect the ends from splitting. The mask makes hair easier to comb and reduces its tendency to tangle and frizz, making it less brittle and more manageable. The lightweight formula does not weigh the hair down, thanks to which it remains fresh and shiny for a long time.
Pharmaceutical form mask. 150 ml
Additional information
Directions for use: Apply to washed, damp hair and massage from roots to ends. Rinse thoroughly after about 5-10. Use twice a week or more often depending on individual needs.
Contraindications: Hypersensitivity to any of the product ingredients.
Marketing Authorization Holder
Aflofarm Farmacja Polska Spółka z o.o.
Information for the consumer
Cosmetics are substances intended for external contact with the human body: skin, hair, lips, nails, external genitals, teeth and mucous membranes of the mouth, used solely or principally for their purity, care, protection, perfumery or beautification.
See how we care about quality
All our products are subject to strict safety requirements
We use rigorous quality control standards and procedures to ensure the highest level of safety for all our products.
See how we care about safety