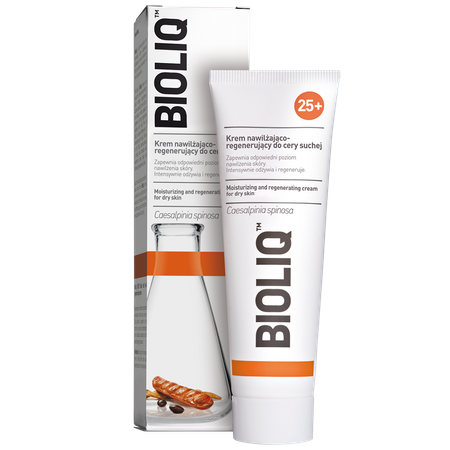 Bioliq 25+ Moisturizing and regenerating cream for dry skin
The cream ensures normal skin hydration. It intensely nourishes and regenerates.

Moisturizing particles – galactomannans, isolated from the Peruvian plant Tara (Caesalpinia spinosa), ensure normal skin hydration. The cream deeply nourishes and regenerates dry face skin and protects it against the harmful effects of free radicals, thereby delaying aging. It also creates a natural protective film on the skin and strengthens its lipid barrier.
Marketing Authorization Holder
Aflofarm Farmacja Polska Spółka z o.o.
Information for the consumer
Cosmetics are substances intended for external contact with the human body: skin, hair, lips, nails, external genitals, teeth and mucous membranes of the mouth, used solely or principally for their purity, care, protection, perfumery or beautification.
See how we care about quality
All our products are subject to strict safety requirements
We use rigorous quality control standards and procedures to ensure the highest level of safety for all our products.
See how we care about safety