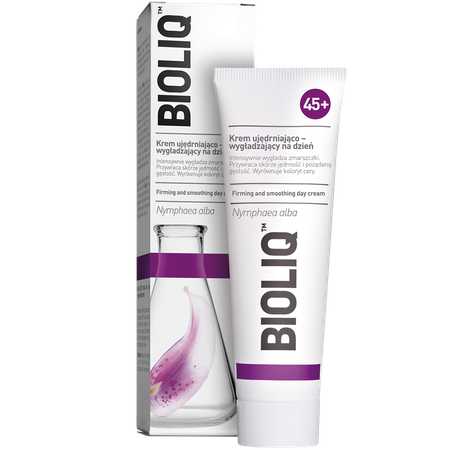 Bioliq 45+ Firming and smoothing day cream
Intensively smoothens wrinkles. Restores skin firmness and desirable density. Balances skin colour.
The cream ensures a visible lifting effect, smoothens the skin, and improves the facial contours. It makes wrinkles less visible, less dense, and less deep.
The cream contains European white water lily (Nymphaea alba) extract, which stimulates the collagen and elasticin metabolism, restoring skin firmness, smoothness, and proper density.
The cream has brightening effects, reduces melanin spots, and balances skin colour. Moisturizes, supports regeneration, and soothes irritations. Additionally, neutralizes the harmful impact of free radicals.
Pharmaceutical form cream. 50 ml
Marketing Authorization Holder
Aflofarm Farmacja Polska Spółka z o.o.
Information for the consumer
Cosmetics are substances intended for external contact with the human body: skin, hair, lips, nails, external genitals, teeth and mucous membranes of the mouth, used solely or principally for their purity, care, protection, perfumery or beautification.
See how we care about quality
All our products are subject to strict safety requirements
We use rigorous quality control standards and procedures to ensure the highest level of safety for all our products.
See how we care about safety