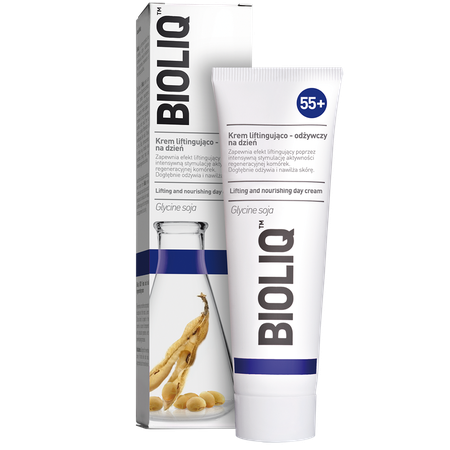 Bioliq 55+ lifting and nourishing day cream
Provides a lifting effect by intensively stimulating cell regenerative activity. Deeply nourishes and hydrates skin.

Intensively improves firmness and resilience while reducing the size and depth of wrinkles for visible lifting effects. Contains bioactive ingredients isolated from soybean seed (Glycine soja) and wheat grain extracts which intensively nourish mature skin and provide it with essential minerals, vitamins and nucleic acids.
Pharmaceutical form cream. 50 ml
Composition
soybean seed (Glycine soja) and wheat grain extract
Marketing Authorization Holder
Aflofarm Farmacja Polska Spółka z o.o.
Information for the consumer
Cosmetics are substances intended for external contact with the human body: skin, hair, lips, nails, external genitals, teeth and mucous membranes of the mouth, used solely or principally for their purity, care, protection, perfumery or beautification.
See how we care about quality
All our products are subject to strict safety requirements
We use rigorous quality control standards and procedures to ensure the highest level of safety for all our products.
See how we care about safety