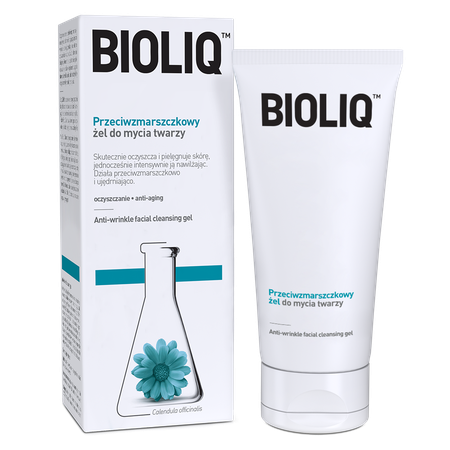 Bioliq Clean anti-wrinkle facial cleansing gel
Effectively cleanses and nourishes skin, keeping it well hydrated. Prevents wrinkles and firms the skin, improving its resilience.

The delicate formula of the gel ensures complete removal of impurities, nourishes and provides optimal hydration for youthful and healthy-looking skin. Contains saponin-rich common marigold extract (Calendula officinalis) for intensive hydration, normalization and anti-oxidative effects. The product has been additionally enriched with hyaluronic acid which, in addition to intensive soothing and hydration, has potent anti-wrinkle effects, improves elasticity and firms the skin. Smoothes out existing wrinkles and prevents new wrinkles from forming with regular use. Leaves your skin cleansed, refreshed and soft to the touch. Also perfect for sensitive skin.
Pharmaceutical form gel. 125 ml
Pharmaceutical form cream. 125 ml
Composition
common marigold extract (Calendula officinalis)
Marketing Authorization Holder
Aflofarm Farmacja Polska Spółka z o.o.
Information for the consumer
Cosmetics are substances intended for external contact with the human body: skin, hair, lips, nails, external genitals, teeth and mucous membranes of the mouth, used solely or principally for their purity, care, protection, perfumery or beautification.
See how we care about quality
All our products are subject to strict safety requirements
We use rigorous quality control standards and procedures to ensure the highest level of safety for all our products.
See how we care about safety