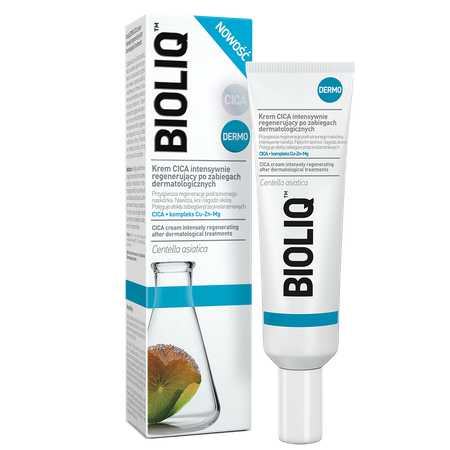 Bioliq DERMO CICA cream intensively regenerating after dermatological treatments
It accelerates the regeneration of irritated epidermis. Moisturizes, soothes and eases the skin. It enhances the effects of anti-aging treatments.
CICA • Cu-Zn-Mg complex
Pharmaceutical form cream. 30 ml
Pharmaceutical form cream. 30 ml
Additional information
Recommended after dermatological treatments:
The cream is intended for everyday use after dermatological treatments (e.g. chemical peels, epilation, dermabrasion, mesotherapy) and aesthetic medicine treatments (e.g. fractional laser), as well as after permanent make-up treatments. Intended for even highly irritated skin.

Accelerates regeneration, moisturizes and soothes the skin:
It contains bioactive Asiatic Centella, which, thanks to the active Asiaticoside, stimulates the processes of metabolism of connective tissue, accelerating the regeneration of irritated skin. The cream intensely moisturizes and at the same time soothes the irritated skin after the treatment, reducing redness, burning, dryness and roughness of the skin.

Protects irritated skin:
The cream contains a combination of minerals: zinc, copper and magnesium, which have antiseptic and antibacterial properties, helping to protect the skin against infections caused by microdamages to the skin. In addition, it has a positive effect on the oxygenation of skin cells, accelerating the regeneration process of the epidermis.

Enhances the effects of anti-aging treatments:
The cream has been enriched with acerola extract with a high concentration of vitamin C, thanks to which it improves its elasticity, smoothing and firming, enhancing the effects of anti-aging treatments, and visibly rejuvenating the skin.
Marketing Authorization Holder
Aflofarm Farmacja Polska Spółka z o.o.
Information for the consumer
Cosmetics are substances intended for external contact with the human body: skin, hair, lips, nails, external genitals, teeth and mucous membranes of the mouth, used solely or principally for their purity, care, protection, perfumery or beautification.
See how we care about quality
All our products are subject to strict safety requirements
We use rigorous quality control standards and procedures to ensure the highest level of safety for all our products.
See how we care about safety