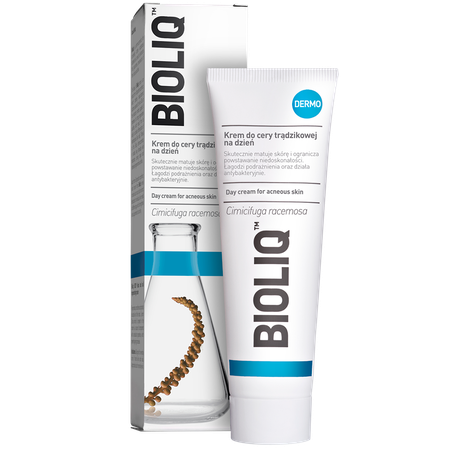 Bioliq Dermo day cream for acne skin
Effectively mattifies skin, reducing the appearance of imperfection. Soothes irritation and removes bacteria.

Regulates the function of sebaceous glands to reduce the production of sebum. Effectively mattifies shiny skin areas. Has antibacterial properties and reduces the appearance of new imperfection. Contains Cimicifuga racemosa extract which protect skin cells from free radicals and soothes irritation, providing proper care for acneic skin.
Pharmaceutical form cream. 50 ml
Composition
Cimicifuga racemosa extract
Marketing Authorization Holder
Aflofarm Farmacja Polska Spółka z o.o.
Information for the consumer
Cosmetics are substances intended for external contact with the human body: skin, hair, lips, nails, external genitals, teeth and mucous membranes of the mouth, used solely or principally for their purity, care, protection, perfumery or beautification.
See how we care about quality
All our products are subject to strict safety requirements
We use rigorous quality control standards and procedures to ensure the highest level of safety for all our products.
See how we care about safety