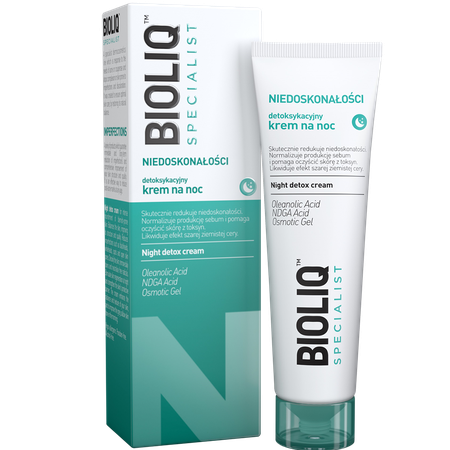 Bioliq Specialist Night detox cream
The cream intensively cares for skin prone to imperfections. The combination of oleanolic acid, nordihydroguaiaretic acid (NDGA) and osmotic gel normalizes sebum secretion and effectively reduces existing imperfections (blackheads, comedones, eczema, dilated pores). The cream has been enriched with ingredients cleansing skin of various toxins accumulated during the day and neutralizing the effect of free radicals. The energizing effect of minerals stimulates the regeneration of skin during the night and strengthens its protective barrier, thereby visibly improving the quality and texture of skin and reducing the effect of gray and dull skin after waking up.
Composition
oleanolic acid, NDGA acid, osmotic acid, mineral complex
Marketing Authorization Holder
Aflofarm Farmacja Polska Spółka z o.o.
Information for the consumer
Cosmetics are substances intended for external contact with the human body: skin, hair, lips, nails, external genitals, teeth and mucous membranes of the mouth, used solely or principally for their purity, care, protection, perfumery or beautification.
See how we care about quality
All our products are subject to strict safety requirements
We use rigorous quality control standards and procedures to ensure the highest level of safety for all our products.
See how we care about safety