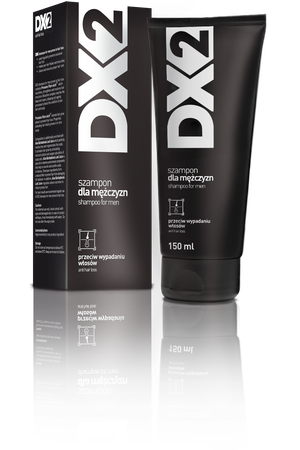 DX2 anti hair-loss shampoo
DX2 anti hair-loss shampoo for men prevents excessive hair loss; restores hair follicles and reinvigorates shrunken hair. DX2 contains Pronalen Fibro Actif™ which penetrates deep into the skin, delaying cellular aging and improving the condition of the scalp and hair. Aloe Barbadensis Leaf Juice effectively hydrates and regenerates the scalp. It is also a rich source of vitamins and minerals.
Designed and formulated for everyday use.
Composition
Aloe Barbadensis Leaf Juice, Pronalen Fibro-Actif™
Marketing Authorization Holder
Aflofarm Farmacja Polska Spółka z o.o.
Information for the consumer
Cosmetics are substances intended for external contact with the human body: skin, hair, lips, nails, external genitals, teeth and mucous membranes of the mouth, used solely or principally for their purity, care, protection, perfumery or beautification.
See how we care about quality
All our products are subject to strict safety requirements
We use rigorous quality control standards and procedures to ensure the highest level of safety for all our products.
See how we care about safety