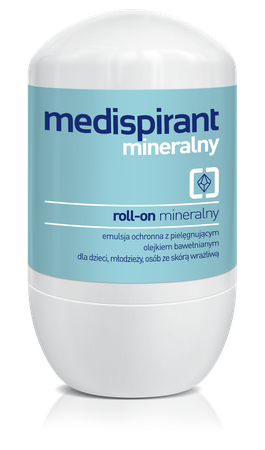 Medispirant mineralny
Medispirant mineral is a protective emulsion based on a natural, bioactive mineral - alum, which supports effective protection against perspiration, and at the same time does not affect the natural skin balance. Additionally, thanks to silver ions, the preparation has antibacterial properties, preventing the unpleasant odor of sweat. The mineral medispirant provides freshness and a sense of comfort every day. The mineral medispirant is extremely gentle, it contains natural cottonseed oil that not only cares for the thin and sensitive skin of the armpits, but also protects against it drying and irritation. It has a pleasant, subtle, cotton scent. It is an excellent first protective dermocosmetic for children who have started to mature changes in the smell of the skin are noticeable in them faster and also for adolescents during their period maturation. Mineral medispirant is dedicated to people with sensitive skin and those who value natural skin protection, as well as youth and children over 8 years of age.
Pharmaceutical form cream. 40 ml
Pharmaceutical form cream. 40 ml
Marketing Authorization Holder
Aflofarm Farmacja Polska Spółka z o.o.
Information for the consumer
Cosmetics are substances intended for external contact with the human body: skin, hair, lips, nails, external genitals, teeth and mucous membranes of the mouth, used solely or principally for their purity, care, protection, perfumery or beautification.
See how we care about quality
All our products are subject to strict safety requirements
We use rigorous quality control standards and procedures to ensure the highest level of safety for all our products.
See how we care about safety