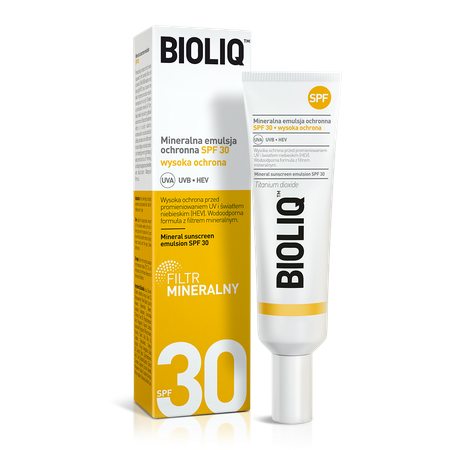 Mineral sunscreen emulsion SPF 30
High UVA/UVB defence formula with photostable mineral filter. Effective protection all year round, also against prolonged or intense sun exposure. Shields the skin against blue light (High Energy Visible HEV) emitted from screens and displays of electronic equipment. It is a mineral-base block that deflects and re-diffuses UVA light, facilitates sun-damaged skin repair, counteracts oxidative stress caused by free radicals, stimulates collagen and elastin production, prevents premature aging and hyperpigmentation. Anti-wrinkle.

The sunscreen is formulated with shea butter, jojoba and almond oils and niacinamide. Jojoba oil wax as intense moisturiser protects the skin against moisture loss while getting a tan. Shea butter and almond oil are natural lubricants which keep your skin hydrated and nourished and enhance repair of UV-induced skin damage. Antioxidants protect DNA structure from harmful effect of free radicals and prevent premature aging. By inhibiting melanin synthesis, niacinamide enhances repair of the UV-induced damage to the skin and prevents dark spots.

Water-resistant
Gentle and safe even for very sensitive skin. Fragrance-free. Lightweight, non-greasy feel, amazing makeup primer. Dermatologically tested.
Pharmaceutical form cream. 30 ml
Pharmaceutical form cream. 30 ml
Marketing Authorization Holder
Aflofarm Farmacja Polska Spółka z o.o.
Information for the consumer
Cosmetics are substances intended for external contact with the human body: skin, hair, lips, nails, external genitals, teeth and mucous membranes of the mouth, used solely or principally for their purity, care, protection, perfumery or beautification.
See how we care about quality
All our products are subject to strict safety requirements
We use rigorous quality control standards and procedures to ensure the highest level of safety for all our products.
See how we care about safety