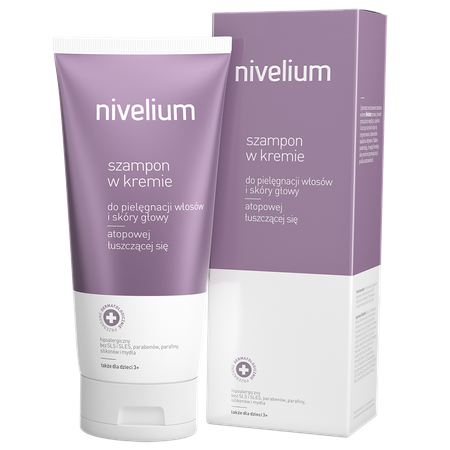 Nivelium shampoo
Nivelium cream shampoois a specialist dermatological product intended for washing and care of hair and scalp skip with symptoms of atopic dermatitis and psoriasis. It effectively cleanses skin and hair of all types of environmental pollutants and dead skin cells. By ensuring optimal skin moisturization, it reduces the sensation of itching and tension, and prevents dryness from reappearing. The shampoo soothes irritation, and its cream formula is gentle even to especially sensitive skin. The shampoo has a favourable effect on the look and condition of hair, making it soft, smooth and full of shine.
Pharmaceutical form cream. 150 ml
Additional information
Foe everyday use or whenever needed.
Does not make hair oily.

The product is free from parabens and silicones, SLS, SLES
and soap.
Composition
Complex of NMF reconstructing substances:
amino acids,
urea,
α–hydroxy acids (AHA) and their salts,
protocatechuic acid.

Madonna lily extract.

Common sea buckthorn oil.

D-panthenol.
Marketing Authorization Holder
Aflofarm Farmacja Polska Spółka z o.o.
Information for the consumer
Cosmetics are substances intended for external contact with the human body: skin, hair, lips, nails, external genitals, teeth and mucous membranes of the mouth, used solely or principally for their purity, care, protection, perfumery or beautification.
See how we care about quality
All our products are subject to strict safety requirements
We use rigorous quality control standards and procedures to ensure the highest level of safety for all our products.
See how we care about safety