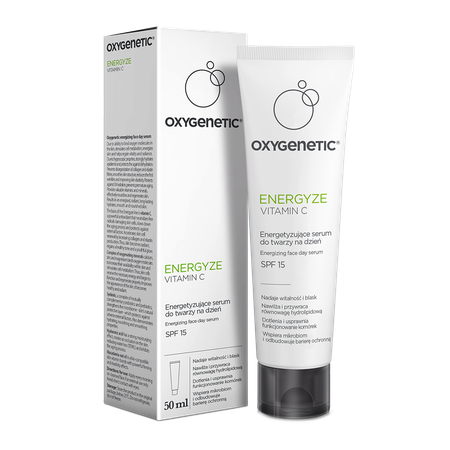 OXYGENETIC ENERGYZE VITAMIN C Energizing face day serum SPF 15
Energize skin to reveal vitality and glow due to stimulated skin metabolism. Hydroscopic components protects epidermis from dehydration. This serum prevents fragmentation of collagen and elastic fibres for super silky smooth texture, supple skin and minimised fine lines. Protects against pre-mature aging due to UV radiation, supplies skin with vitamins and minerals so that it is visibly awaken, revived and nourished. With this energizing serum skin will look invigorated, luminous and deeply hydrated.

To provide energy to tired complexion

Vitality and glow revealed. Hydrates to ensure hydrolipid balance. Oxygenates to release more energy in skin cells for balanced microbiome and powerful protective barrier to prevent photoaging processes.
Marketing Authorization Holder
Aflofarm Farmacja Polska Spółka z o.o.
Information for the consumer
Cosmetics are substances intended for external contact with the human body: skin, hair, lips, nails, external genitals, teeth and mucous membranes of the mouth, used solely or principally for their purity, care, protection, perfumery or beautification.
See how we care about quality
All our products are subject to strict safety requirements
We use rigorous quality control standards and procedures to ensure the highest level of safety for all our products.
See how we care about safety