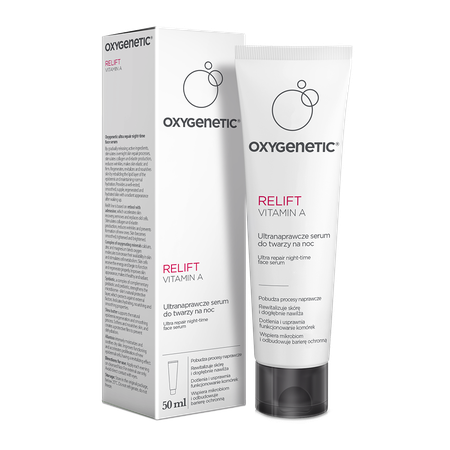 OXYGENETIC RELIFT VITAMIN A Ultra repair night-time face serum
This slow-release skincare serum is to enhance one's beauty sleep by stimulating repair processes in the skin overnight.

Promotes collagen and elastin production and is merciless to smooth even very deep wrinkles leaving the skin supple and plump and with youthful bounce and elasticity restored to the skin. This lipid loving serum for deep-locked moisture while sleeping is an anti-ageing expert to nourish, regenerate and rejuvenate the skin. Proven to make skin glow overnight with envious luminosity, smoothness, elasticity, freshness and youthfulness restored.

Redefined facial contour

Stimulates natural skin repair process mechanisms.
Revitalises skin and locks in hydration. Oxygenates and energises skin cells to replenish and allow nice new plump skin cells to form.
Enhances microbiome and rebuilds natural skin protective barrier.
Marketing Authorization Holder
Aflofarm Farmacja Polska Spółka z o.o.
Information for the consumer
Cosmetics are substances intended for external contact with the human body: skin, hair, lips, nails, external genitals, teeth and mucous membranes of the mouth, used solely or principally for their purity, care, protection, perfumery or beautification.
See how we care about quality
All our products are subject to strict safety requirements
We use rigorous quality control standards and procedures to ensure the highest level of safety for all our products.
See how we care about safety